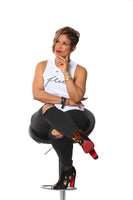 Meet Val
Here's what you know about me. I'm the fun loving co host of the wildly popular afternoon talk show Chicagoans have fallen in love with.....Windy City Live.

Here's what you don't know about me. I was married 9 years. Some years good. Some years not so good. August 1st, 2008 I left. With a 5 year old and 10 month old to care for ... I made the biggest decision of my life. A decade later...I am "FREE." I did it for my family. I did it for my career. More importantly, I did it for me. Everyone has that "FREE." moment. This is mine. What is Yours?
- Val
"To whom much is given, much is required." I have been blessed with a platform to share Free by Val Warner. It is my intention to use this platform not only to highlight the work of local and national charities close to my heart but to financially support these organizations. Proceeds from my inaugural line of shirts will be donated to an organization doing much needed work, the amazing South Suburban Family Shelter located in Chicago's South Suburbs.
Contact Val
Instagram: @FREEByValWarner
Facebook: FREEByValWarner
Twitter: @FREEByValWarner